Find the best Emoji Party Decorations! Do you need decorations ideas for your Emoji party? Here are some cool Emoji party decoration ideas.
If you want more ideas then banners, balloons and streamer you can find some fun and easy ideas to help decorate for an Emoji Party! Find DIY Emoji decor ideas along with other fun birthday party decoration ideas with Emoji's! An Emoji party is so much fun to put together and there are so many fun, easy and great ideas to make your celebration a success.
Affiliate links are provided on this page for your convenience. Here is our disclosure policy.
---
---
---
---
---
Decorate yellow paper lanterns to look like an Emoji! more about Emoji Party Lanterns
---
Using a foam wreath and ornaments in different sizes or even ping pong balls make your own DIY Emoji wreath! more about DIY Emoji Wreath
---
Cut out different Emoji's and string on bakers twine with mini clothespins! more about DIY Emoji Banner
---
Blow up some yellow balloons and use Sharpie's to draw on Emoji faces. more about DIY Emoji Balloons
---
Use yellow plates and decorate with different Emoji's and then place them on sticks – set around for cute decor. more about Paper Plate Emoji
---
For these DIY Emoji balloons use yellow helium filled balloons and add an Emoji face and if you want to skip the DIY part then you can buy Emoji Balloons like these! more about DIY Emoji Balloons
---
Decorate a round wood board (and if you want to skip the drilling – use these) with some yellow paint – draw on an Emoji face then drill holes for the lights! more about DIY Emoji Marquee
This video gives you 10 cool Emoji ideas – like ping pong Emoji lights (things you will need – lights & ping pong balls), Emoji text message pillow, Emoji string lights (lights and film), Emoji mini table, Emoji soap dispenser, and Emoji bowls you can use for candy and much more!
Make Your Emoji Party Extra Special With These Items Handpicked By Us For YOU!
Emoji Party Supplies Posters and Signs
Emoji Personalized Birthday Banner
Emoji Birthday Party Plates Napkins Cups Tableware
Check out some cool Emoji Party Favor Ideas!
Need an Emoji gift idea, check out the Emoji gifts list, and if you need invitations for the kids check out some cool Emoji party invitations. We hope you were able to find some Emoji party theme decoration ideas that will fit your party. No matter if you going to do DIY Emoji party decorations or purchase Emoji items just have fun and enjoy the day. If you need more ideas head over to Pinterest for more decor ideas. Have a great Emoji party!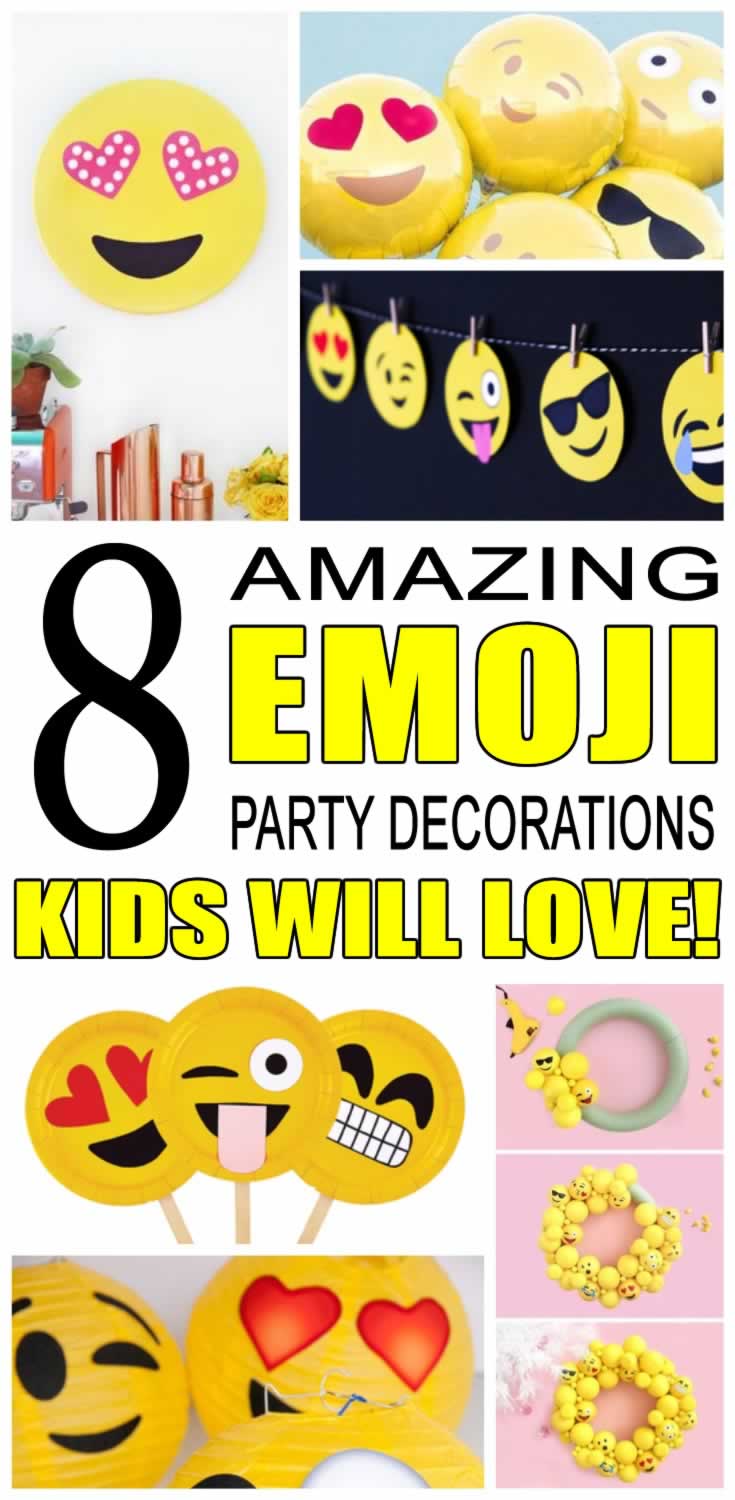 ---