Jump into your next birthday party with these fun trampoline party favors. Boys and girls would love to receive any of these trampoline party favor ideas. Find the best trampoline bday favors now!
Affiliate links are provided on this page for your convenience. Here is our disclosure policy.
---
---
---
---
---
Make these cute bouncy ball party favors perfect for any trampoline party. Design Mom made these bouncy balls in cellophane bags with a ribbon, such an easy and fun party favor idea. Here are some marble bouncy balls, cellophane bags, and ribbons.
---
Give a jar of gumballs for your trampoline party. Sheek Shindigs put these fun party favors together with cute colorful thank you cards.
---
Karas Party Ideas has another gumballs in a jar idea for your jumping/trampoline theme tastefully decorated with string and thank you cards.
---
Instead of using these drink cups by Rachel Swartley for a soccer party idea – turn these into a cute party favor for your trampoline party. Fill a sports bottle with bouncy balls, popcorn, pop rocks, gum balls and more!
---
These socks are so cool looking! What could be more perfect than these non-slip trampoline socks for a trampoline party favor.
---
Add these colorful popper toys to any trampoline party and the kids will remember all the fun they had jumping up and down.
---
These fun push down pop up toys are great trampoline party favors and an interesting way to add some entertainment to the party.
---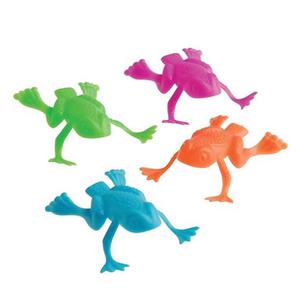 Another party favor perfect for a trampoline theme, these leaping frog party favor toys can be added to a grab bag.
---
Add these colorful bright and vibrant bouncy balls to a jar party favor to get things going or to send your trampoline party guests home with something to remember your party.
---
These slingshot flying frog party favors are another way to let the kids have a blast at your party
---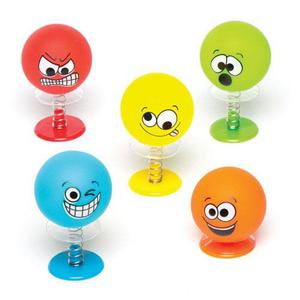 Cool looking funny face pop up party favors make great trampoline party favors. Just push them down and watch them fly.
Make Your Trampoline Party Memorable With These Items Handpicked By Us:
---
Trampoline Birthday Party Video
How to Throw a Trampoline Park Birthday Party? Watch this video! This is a video of a fun day at Rockin Jump Trampoline Park – one of many trampoline parks around the USA. This video was from a boys 11th birthday party celebrated at Rockin' Jump Ultimate Trampoline Park! Trampoline places have a variety of activities for the kids: from trampoline dodgeball, trampoline basketball, balance battles and rock climbing wall. If you are having your celebration at a Trampoline park – have fun!
What are some good trampoline themed party bags? Any of the ideas above would make great trampoline party favors to put into a goodie bag. Remember party favors don't have to expensive – you can find cheap, creative and unique party favor ideas that all children will love. The best thing to go is get a party favor bag and fill with toys and candy (choose any of the toys or candy from above) the kids will love it!
What are some fun ways to celebrate a birthday at a trampoline park? If you can – a glow in the dark party is a great theme. You could also have a sports theme – such as: soccer, basketball or baseball. Trampoline parks not only provide a great bday party experience they also provide a great end of the year party for sports.
What are some trampoline parks in your area? Do you have a favorite trampoline party favor? Are you celebrating your trampoline party at home or at a venue? Let us know in the comments. Also, let us know if you have questions about trampoline party – from invitations to decorations to food items to party favors – whatever questions you have leave them in the comments. We hope you have a jumpin good time and all the boys and girls have a blast.
---